We have received offers of support from a wide range of suppliers and have consolidated that information to share with you. We are not endorsing any particular supplier - or their products - but we do hope you find this information helpful.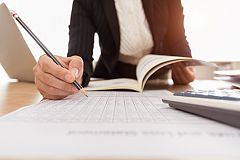 COVID-19 Supplier Contingency Plans
Date: 26/03/20
COVID-19 Supplier Contingency Plans are available to download here or you can find the page by clicking About Us and selecting COVID-19 Supplier Contingency Plans from the menu.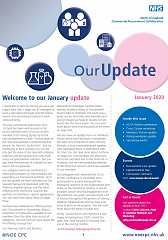 NOE CPC's January 2020 Update is available to read now…
Inside this issue:
HCSA Winter Conference
Procurement Leaders round table
Framework launches
Rolling Workplan
Cross Cluster Workforce Workshop
Members' Forum update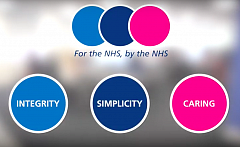 NOE CPC Values
Date: 24/10/19
The NOE CPC working environment is underpinned by our host's Leeds and York Partnership NHS Foundation Trust values; Integrity, Simplicity and Caring. We demonstrate this in the way we interact with our customers, suppliers and each other.
Please click here to view how we integrate the values across our organisation.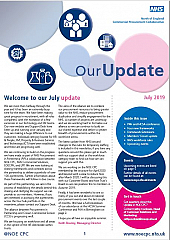 Inside this issue:
P4H and HCSA Conference
New frameworks and extensions
NHSI changes to use of temporary workers
Rolling workplan
Update from Members' Forum
Upcoming training and events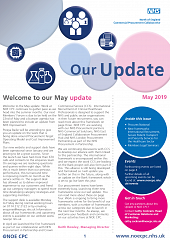 Inside this issue:
Procurex National 2019
New frameworks: International Recruitment, Secure Patient Transport and Security Services
Members Legal Seminars
Information on upcoming events and training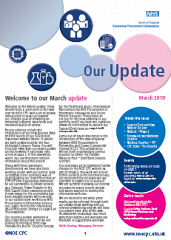 Inside this issue:
Support Desk and New Website Go Live
Website – Phase 2
Framework and Workplan Update (ICT & Technology)
Working Together – PiP
CPC Drive – The Benefits
Information on upcoming events and training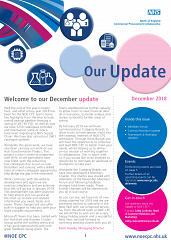 Inside this issue:
November Members' Forum

Contract Novation Update

Framework and Workplan Updates

Upcoming Training and Events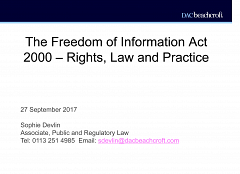 In conjunction with the Skills Development Network Yorkshire and the Humber and NHS North of England Commercial Procurement Collaborative (NOE CPC), DAC Beachcroft delivered an overview of the Freedom of Information Act 2000 ("FOIA") on 27th September 2017
This session offered practical advice on handling FOIA requests, an explanation of the FOIA deadlines and the consequences if FOIA is breached. The session also covered the rules of thumb on what can usually be withheld and disclosed, for example, in relation to requests for procurement or financial information.
Slides from this event are now available to download.