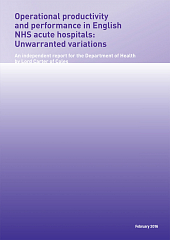 Lord Carter Report on Productivity in NHS Hospitals
Date: 08/02/16
Lord Carter's review of efficiency in hospitals shows how large savings can be made by the NHS.
Lord Carter of Coles' final report sets out how non-specialist acute trusts can reduce unwarranted variation in productivity and efficiency across every area in the hospital to save the NHS £5 billion each year by 2020 to 2021.
The final report builds on the findings of the interim report and sets out further findings of variation across 32 non-specialist acute trusts.
Lord Carter has been appointed as a non-executive director at NHS Improvement and will continue to input into the implementation of his recommendations.
Click here to download a copy of the report.