NOE CPC Timeline of Talent: Stephen Sercombe
21/10/2022
Written by NOE CPC
Over the last 15 years NOE CPC have invested and developed an expert team. From the early veterans to the latest additions who continue to join us as we grow, we are celebrating our people throughout the #PeopleMatter month. Next in our timeline of talent is Stephen Sercombe, Procurement Director at NOE CPC.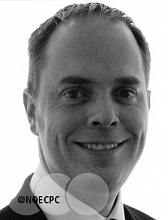 Background
"I actually joined the predecessor organisation of NOE CPC which was called South Yorkshire NHS Supply Management Confederation (SYSMC) in December 2005, just in time for the office Christmas party! SYSMC was established by NHS organisations in this area to develop a programme of collaborative procurement activity and deliver benefits through more efficient operating and aggregation. At that time, we were a very small organisation, and my first role was as a Strategic Procurement Liaison Manager (SPLM) which involved both leading collaborative procurement projects to deliver savings for NHS, but also having responsibility for managing the relationship with a group of NHS Trusts in the Sheffield area – so it combined our current Category Manager and Customer Relationship Manager role's all in one. A jack of all trades!
"I made the switch to NHS from the steel industry where I had gained considerable experience in a wide range of procurement roles, but I was ready for a change and I was interested in seeing how I could apply my commercial skillset in a public sector service environment. It was an exciting change for me, with big differences particularly in terms of the operating environment and organisational culture. The fundamental principles around procurement and following controlled processes were actually very similar, but the more significant culture shock for me was in moving to a much smaller, less mature organisation, which although it was part of NHS still had the feeling of a new start-up. I already had quite a bit of experience of working on big collaborative projects - and I really enjoyed that part of the new role – but the lack of central control over procurement decisions in NHS came as quite a surprise!.....and I also remember being quite shocked by the lack of access to common IT systems and data sources – and I still am!
Why NOE CPC?
"There are many things I like about working at NOE CPC. Best of all are the people. I genuinely think we have a really great team and a lot of talented people, who bring a wide range of experience from many different sectors. We've grown considerably over the years, but I still think we've managed to maintain that small start-up feel, a can-do attitude, and a friendly down to earth culture. In terms of my current role as Procurement Director then I'm really lucky as I get to see a massive variety of different projects and business problems and meet with a wide variety of customers and suppliers. That shear variety of work is immensely interesting and stimulating…..and last-but-not-least we are ultimately providing a valuable service to the NHS, which is something we all care about immensely, and that is a big bonus in terms of job satisfaction!
"My own role and remit has grown over time - as NOE CPC as an organisation has grown. I've held hands-on procurement and engagement roles, and then over the years I have had opportunity to expand my remit first by leading a category team, and ultimately by leading the activities of the entire hub procurement team. Probably the biggest personnel change through that period has been moving from being a team member, to then taking on managerial responsibilities, and finally to moving into a senior leadership role. Those roles have all required different skill sets and attributes, but I've really enjoyed that journey. It's certainly involved some personnel challenges at times, but hopefully I've managed to successful develop and improve myself as a person and colleague, but as the saying goes 'every day is a school day' and that's one aspect I really enjoy about working here at NOE CPC.
The Future
"I think the future for NOE CPC is bright. Clearly the NHS is currently going through an exceedingly challenging period as it continues to recover from the COVID pandemic, and it goes without saying the wider economic climate is also very difficult indeed. It's certainly quite a tough period for anyone involved in procuring - or supplying - the essential goods and services that NHS needs. However, in these difficult times the procurement services and broader commercial support that NOE CPC provide to NHS are more important than ever, and there is an increasingly need for organisations to work together and collaborate in order to do things more efficiently and deliver best value for the public purse. Collaboration is in our DNA and bringing organisations together to achieve better outcomes is core to what we do, so although these are difficult times there are also plenty of opportunities to work more closely with other organisations locally, regionally, and nationally in order for us to make a difference for NHS – and that's what we are here to do."
Get notifications for related news stories